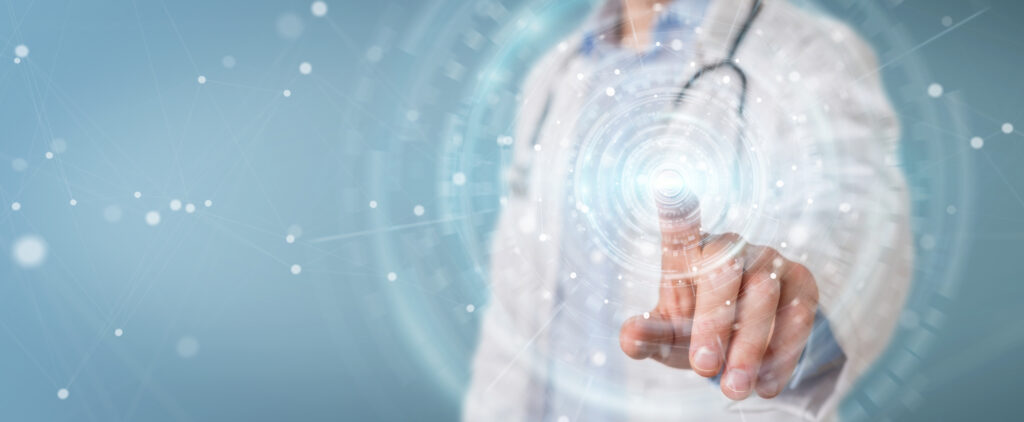 The primary mission of healthcare workers is to care for their patients. However, their daily lives are often polluted by logistical tasks that go beyond the scope of their function, even though they are necessary for the proper functioning of the healthcare facility. These include managing patient outfits or nursing equipment, bed linen, meals, non-sterile equipment stocks, patient transport, imaging attendance… This is what we call embryonic logistics. 
Digital can save them time and become a real ally on a daily basis. And artificial intelligence even more so. But how? That's what we will discuss in this new article. 
Managing patient flow: for greater fluidity
Medical imaging departments are often overloaded in health care institutions. There are many reasons for this: emergencies take priority, equipment breakdowns block services, diagnoses take time, images that are not usable, patients who cannot pass the exam and therefore have to be rescheduled… 
To save time and regulate the flow of patients, AI provides solutions. How? By analyzing images and drawing the practitioner's attention to anomalies, or by analyzing complementary examinations and reconciling the various data to facilitate the choice of treatment (dashboard, alerts…). 
This reduces the duration of examinations and improves patient flow while leaving the final decision to the doctor. AI can also be used to manage equipment (scanners, MRIs, etc.) to anticipate breakdowns and manage downtime. 
For radio manipulators, artificial intelligence, thanks to the use of sensors directly in the machine, gives indications on the right dose of product as well as the right positioning of the patient, which makes it possible to have usable images from the first shot. This saves considerable time. 
Laundry and linen room: for more efficiency at lower cost
The management of linen is essential to the proper functioning of a healthcare establishment. It represents 2% of a hospital's budget and 4% of an EHPAD1. Modernizing it is a real issue so that care staff can focus on their core business: patient health. In the event of a malfunction in the laundry process, patients or caregivers may find themselves short of clothing or linen, which is unacceptable for hygiene and leads professionals to divert from their missions.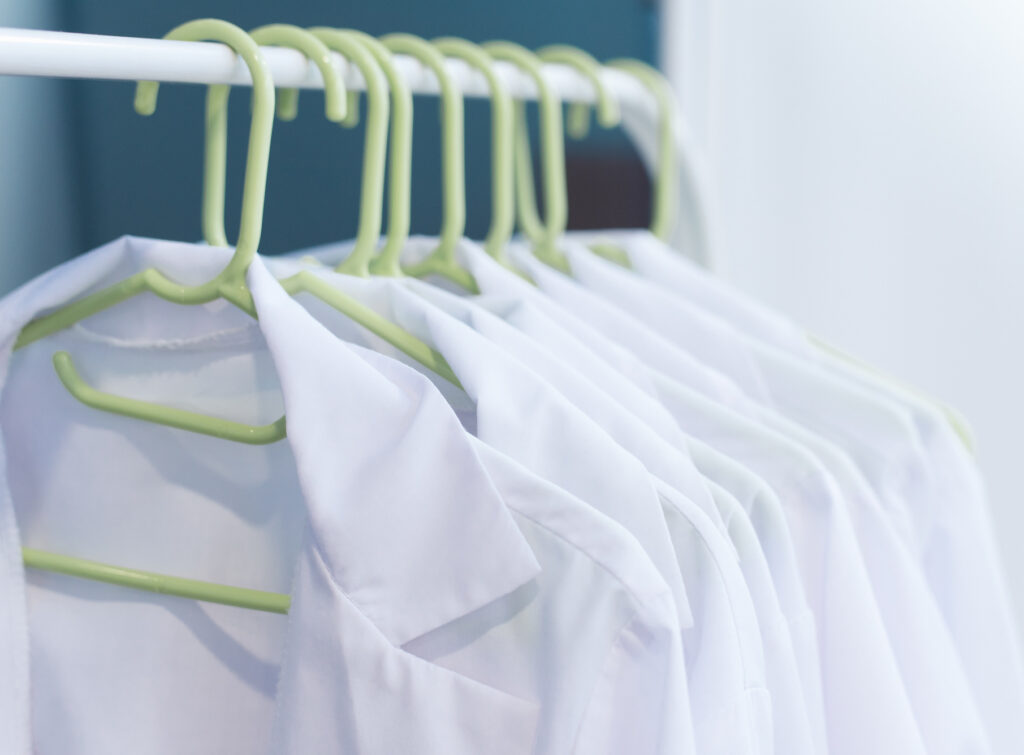 Artificial intelligence allows to distribute the collection of used flat linen, to plan the cleaning and distribution of outfits, sheets and linens in order to optimize the transport, storage and placement in the care facilities. How do we do this? By compiling and analyzing the following data: number of patients, length of stay, caregivers' schedules, anticipation of hospitalization peaks, etc. Automated alerts take all criteria into account. The application makes life easier for teams by recommending an optimal organization, left to their interpretation. 
Foodservice: towards less waste
The Federal Office for the Environment (in Switzerland) estimates that each menu in hospitals generates 124 grams of food waste. There are many reasons for this: too large portions, food allergies and intolerances², inappropriate tastes… However, adapting menus to patients is time-consuming, complex and costly. 
Here again, artificial intelligence, thanks to the analysis of numerous data of different granularity, can predict menus that meet several diets, calculate the ideal portions according to pathologies, adapt stocks and catering activity according to the number of patients… A real help for the preparation of menus, thus reducing waste and associated costs. Beyond menu preparation, AI can be your best ally in managing transport flows from the isothermal truck to the tray offices. Thanks to the connected isothermal carts, the distribution and management of dirty trays are simplified. 
Medical equipment: for better inventory management
It is necessary to ensure the availability of medical equipment and devices in order to care for patients. Unlike a "classic" industry, hospitals operate 24 hours a day, so supplies must be available immediately. The Covid-19 pandemic has shown it again (shortage of masks, gowns, resuscitation devices…). However, it is not always easy to find the right balance between strict management, phantom stocks (scattered in the different departments) and overstocking.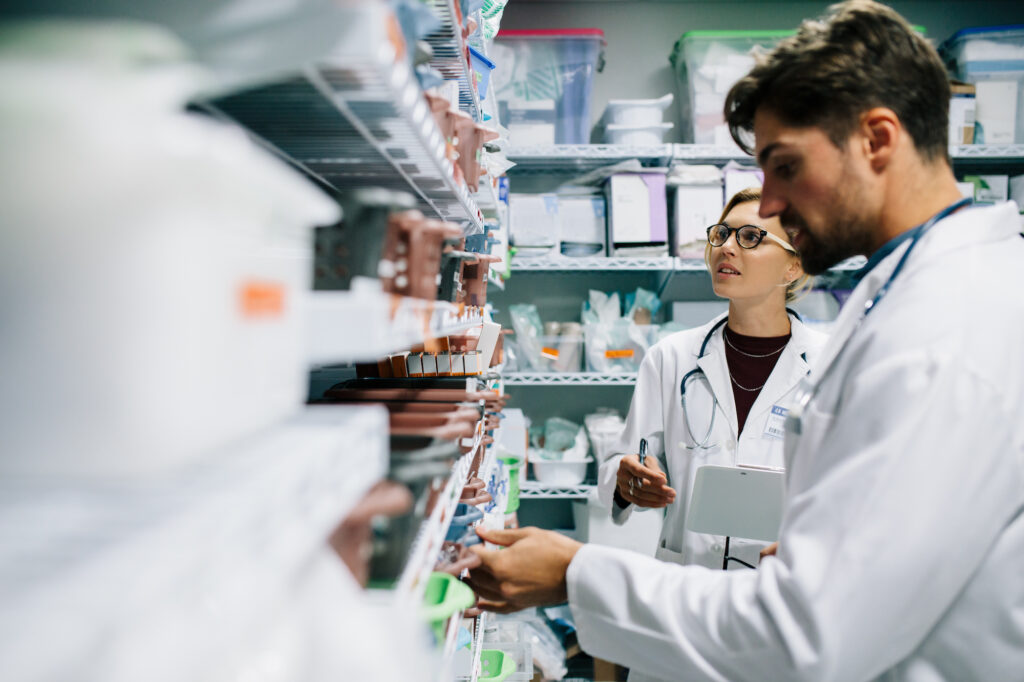 Artificial intelligence has a role to play. Indeed, logistics warehouses are often equipped with dedicated software (called WMS) that manages product flows, stock quantities, packaging, supplies, etc. By combining them with an AI platform and the healthcare institution's HIS, their data is collected, stored and analyzed, making it possible to predict needs, automate certain supplies and anticipate peaks in activity in order to have the necessary equipment at a given moment. 
Exceptional situations: anticipating hospital tensions to better ensure care
Could certain developments in the Covid-19 health crisis have been better anticipated? Artificial intelligence, thanks to its ability to scan a large volume of data and to identify weak signals, can predict exceptional situations. To do this, it is necessary to develop an algorithm capable of taking into consideration different types of data: the evolution of infectious diseases, flows in health care facilities, analysis of symptoms, etc. 
Such applications are beneficial for health care institutions that can adapt their patient capacity, surgical schedules, material stocks… Moreover, these systems are self-learning, so they evolve, refine and leave it up to the professionals to make the appropriate decisions. 
Digital technology and automation are new levers for logistics performance in healthcare institutions. Optimizing flows, automating time-consuming tasks, and anticipating peaks in activity reduces the mental load on caregivers. They remain focused on their core business: patient care. 
Collaboration between urban medicine and hospitals: for a better sharing of health issues
To relieve hospital overcrowding and improve access to care, it is essential to create community care facilities. The High Council for Health Insurance proposes to create facilities focused on everyday ailments. This will reduce the flow of patients to the emergency room while giving patients the opportunity to consult a health professional. 
For this to be functional and efficient, it is essential to be able to fluidify the exchanges between all the actors in the health sector: town medicine, specialists, hospitals, mutual insurance companies, health insurance… This will enable them to work better together, to refer patients to the right care, to reduce the flow of patients in hospitals, to follow up on patients when they return home… This will reduce the mental load on the carers while improving the care pathway for patients. 
Digital technology and automation are new levers for logistics performance in healthcare institutions. Optimizing flows, automating time-consuming tasks and anticipating peaks in activity reduces the mental load on caregivers. They remain focused on their core business: patient care. 
Discover our papAI platform
Healthcare logistics: how to be more efficient?