[Testimony] SNCF Voyageurs: "An AI platform for the health and productivity of maintenance agents"
SNCF Voyageurs is a rail transport company operating in France and Europe. It has 70,000 employees, including 20,000 agents in charge of equipment. 
During maintenance and engineering operations, the Industrial Department trains its agents to visually detect the presence of asbestos in order to know if the wagons are healthy or not. In case of doubt, a more in-depth analysis is carried out in the laboratory. This is a lengthy process that takes up to three days and delays railcar maintenance. 
At the request of its maintenance teams, the Industrial Department of SNCF Voyageurs decided to set up a tool to detect the presence of asbestos and, to do so, chose to call on a partner capable of developing a tailor-made artificial intelligence solution. 
Patrick Munsch, Head of Maintenance & Engineering at SNCF Voyageurs, gives us his feedback.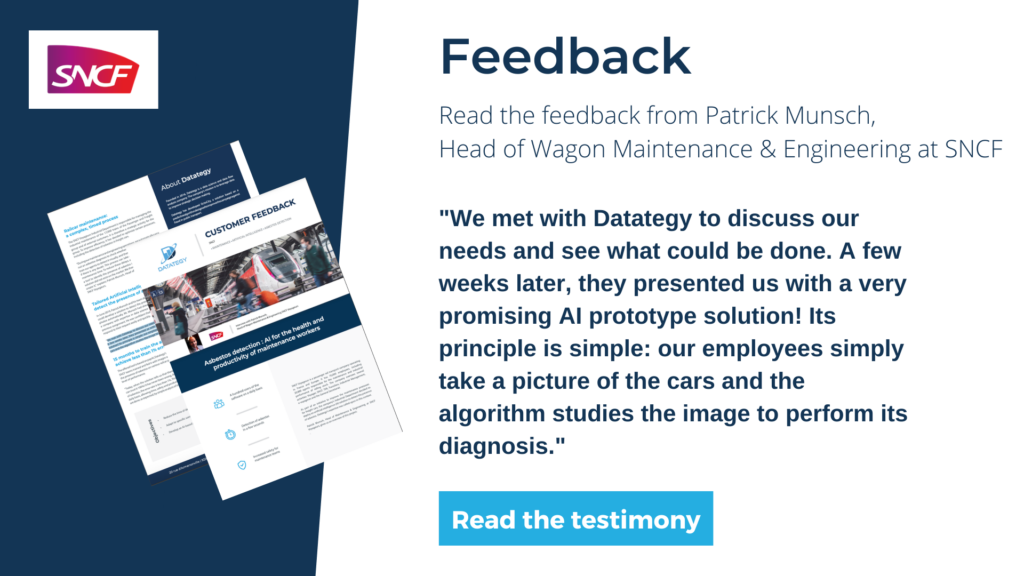 Find out in his testimonial: 
The reasons for choosing an AI-based solution
Staff needs: reliability, ease of use and customization
The benefits observed from the beginning of its use
"Today, when the solution tells us that there is no asbestos on a car, we can trust it 100%! It has never been wrong. And when it reports the presence of asbestos, the error rate is less than 1%. This tool brings a real comfort to our daily life"
[Testimony] SNCF Voyageurs: "An AI platform for the health and productivity of maintenance agents"