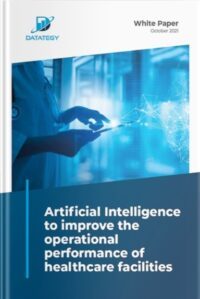 Artificial intelligence at the service of the logistics of healthcare institutions
How can we use the full potential of artificial intelligence to improve the comfort of patients and caregivers?
In this white paper, we provide an overview of the use of AI in hospitals. We give you concrete guidelines to defend artificial intelligence projects designed to improve the operational efficiency of healthcare institutions.
In Focus:
How is artificial intelligence being used in healthcare today?
How to integrate AI in HIS?
How to overcome the preconceived notions about the use of AI in hospitals?
What are the concrete use cases of AI to optimize the logistic processes of healthcare institutions?
Why choose the papAI platform?
DATATEGY is committed to protecting and respecting your privacy. We will only use your personal information to administer your account and provide you with the products and services you have requested. We would like to contact you occasionally about our products and services, as well as other content that may be of interest to you. You may unsubscribe from these communications at any time. See our Privacy Policy to learn more about our unsubscribe and privacy policies and our commitment to privacy.