The tech world is ever changing and evolving, and even advances such as Machine Learning have gone a step further to provide companies with new solutions to streamline their processes and make better business decisions.
Last year, the MIT Technology Review Insights made a global survey on the main uses of artificial intelligence in companies, its challenges and the benefits it would bring to all industries.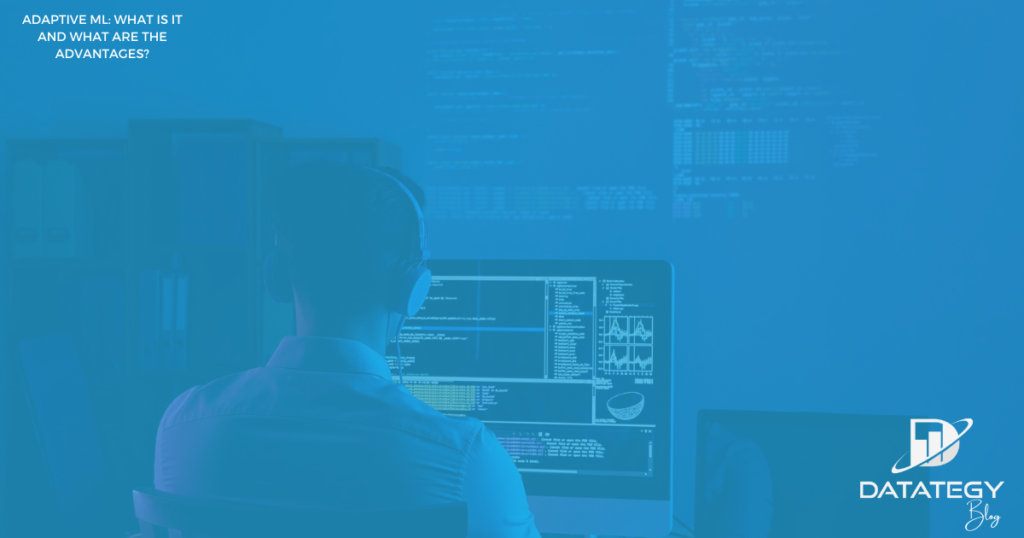 The research titled "The global AI agenda: Primise, reality and a future of data sharing" was carried out between January and February 2020, just before the pandemic. The report reveals which industries have implemented AI within their operation and in which areas : 
In the financial sector, 58% of companies use AI to detect fraud,
59% of manufacturers and 60% of pharmaceutical companies employ AI in  quality control,
48% of retailers use it to improve their customer service, 
40% of logistics and transportation companies use artificial intelligence for inventory management, and,
for 52% of IT organizations, cybersecurity is the priority. 
As these figures indicate, a large percentage of industries have incorporated – or are planning to do so – AI, ML or some other type of advanced technology within their organization. This great acceptance has made the systems reinvent themselves to be able to offer more solutions in less time. One of these innovations is Adaptive Machine Learning.
Differences between Adaptive and Traditional Machine Learning
Traditional ML models have two main functions: training and prediction. Through training, the systems channel the collected data, purge, organize, and transform it. On the other hand, through prediction, information is analyzed to generate accurate forecasts that will allow effective decision-making. 
This information processing method has worked effectively for many companies: however, having two filters between receiving the information and making predictions has its drawbacks. The most obvious one is the need of an elaborated infrastructure implying higher costs for the organization.   
Due to the divided nature of Machine Learning, learning methodologies can be challenged when :
the operating environment of the system changes

the filtering of information in the system is altered

the organization's goals change
Adaptive Machine Learning, on the other hand, uses a single channel for training and prediction, so data is processed as soon as it arrives and insights are generated in real time. 
Adaptive Machine Learning monitors and learns changes made to entry and exit values, while also looking at events that can alter market behavior in real time to maintain the accuracy. This system is much more flexible than the traditional one, helping to eliminate the learning obsolescence.
Where can we apply Adaptive Machine Learning ?
According to Data Science Central, Adaptive Machine Learning has begun to be adopted in some sectors such as: 
IoT industries : optimization of heavy manufacturing equipment, electrical networks and traffic control systems. 
Pharmaceutical and Health industry : patient monitoring to send an alert to the appropriate group of doctors or nurses who should attend them.
Banking and Financial sector : historical transaction information analysis to detect and stop fraudulent payments, automation of high-frequency trading in financial markets. 
Retail : pattern analysis of buying behavior and cross selling, real time price checking.  
Marketing : analysis of behavioral patterns to trigger personalized offers. 
Before implementing any innovation within a company, it is always important to be clear about what you want to achieve. Adaptive Machine Learning is a great solution to improve the quality of a data project and counting on a tool that allows both, traditional and adaptive ML, would help business to find a balance between innovative and validated techniques.  
Interested in discovering papAI?
Our commercial team is at your disposal for any question
Adaptive ML: what is it and what are the advantages?