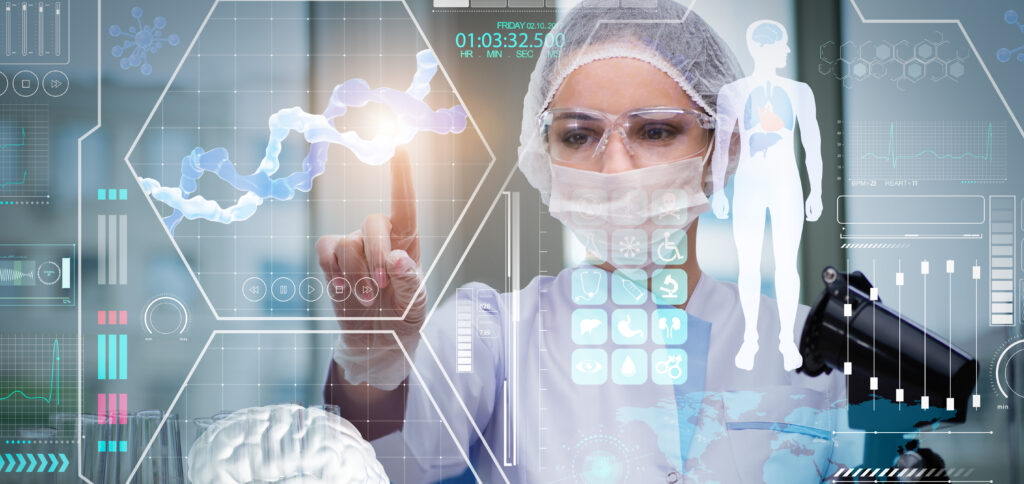 In order for AI projects to come to life in healthcare facilities, the deployed solution must be accessible, transparent and agile. These are essential conditions for the adoption of this type of application. 
For our part, we have designed our papAI platform with this in mind: to make data and artificial intelligence accessible to everyone, especially to non-IT or technical profiles, and to field profiles. And we'll tell you about its advantages. 
#1 - Massive data management
Above all, papAI allows you to manage a colossal volume of data. By importing databases or setting up APIs, you can quickly and easily integrate all the data you need for your projects: linen management, bed planning in departments, menu management, analysis results, imaging planning, etc. The platform offers several parameterized processes to manage duplicates, make raw data intelligible and aggregate a large amount of information in a few clicks. 
This is a real asset in the healthcare field, where data sources (other care institutions, town doctors, etc.) are constantly increasing, where formats are increasingly heterogeneous and where employees need information in real time. Teams don't have the time to process it manually to get the most out of it, which is why it's important to use a high-performance platform. 
Another significant advantage that offers almost immediate profitability is the intelligent management of these large volumes of data. We mentioned above the hosting constraints to which hospitals are subject (HDS, ISO27001, RGDP….) and which are much more costly than standard hosting. papAI, in an effort to reduce the carbon footprint and associated storage costs, filters the data at the input, thus avoiding intermediate storage. The result: 90% less total space occupied per typical project than a market leader (11GB for papAI versus 114GB audited customer data).
Artificial intelligence projects are perceived as complex, time-consuming, irreversible or even unintelligible. Process modeling often requires hours of development time and solid data science knowledge. 
With papAI, we offer you a multitude of processes and pre-packaged algorithms that can be adapted to your needs in real time thanks to their modeling in nocode. Moreover, it is possible to test the models before their deployment in order to make them evolve, to adjust them, or simply to make sure that everything is in conformity. A real plus for projects that are sometimes experimental. With some initial support, the business lines – caregivers, logisticians, catering managers, buyers – can use the platform themselves to adapt the processes to their needs without calling on IT or data scientists. 
Transparency of results is key in AI, especially in the health field where the care staff keeps the hand and must be able to understand the meaning of a recommendation produced by the application. The stakes are so high that it is necessary to know what information, what action, what data have led to these results. The various business lines need to clearly and quickly identify the elements that influence results or behaviors in order to refine their decisions and be able to justify them (abnormal constants, guide maintenance operations, etc.).
The question of ethics often arises when we talk about AI in healthcare. It is an aspect that the authorities are looking into. It is essential that AI platforms are transparent, especially when their use impacts sensitive topics. papAI gives you the possibility to see which rule and which data had a major impact on the results. In addition, you can easily run simulations to see the impact of changes and justify your decisions with concrete examples. 
The use cases of artificial intelligence in healthcare facilities are numerous: predictive maintenance of equipment, prediction of people flow, patient monitoring, diagnostic assistance, menu management… However, it is not in your interest to develop a specific application for each problem. It is therefore important to choose an open, flexible, scalable platform that adapts to your needs and expectations and that can evolve over time.
That's how we thought of papAI: a single artificial intelligence platform for all your projects. papAI's intuitive library of algorithms covers the entire value chain, from data aggregation to predictive analytics production. From procurement to research, from facility flow management to predictive maintenance, papAI adapts to your needs in real time. 
In a sector where digital and AI are in full expansion and can answer many problems, the choice of a solution is not only based on the functionalities, but also on the support offered by the editor. 
This is a real asset of papAI: beyond the deployment, we build your business processes with you, we make them evolve, we challenge you… Moreover, if you don't have data science skills in-house, we can mobilize our AI experts on your projects. It is also possible to have additional training, a more dense support package… Everything to make your AI approach a real success! 
#6 - Accessibility to all types of users
One of the major advantages of papAI is its ease of use, which allows businesses to benefit from all the advantages of artificial intelligence, to make their processes evolve without waiting for the IT department or asking for data scientists. 
papAI's readable and intelligible pre-packaged algorithms allow users to immediately start using it after training by Datategy's teams. The modeling interface is drag-and-drop, allowing you to build scenarios in a few clicks and to make them evolve, start over or enrich them. This is a real plus for more efficient AI projects. 
#7 - Connectivity and Compliance
As previously mentioned, there are multiple data sources for healthcare institutions. It is therefore essential to choose an artificial intelligence solution that connects to other applications, to the hospital's HIS or to different data sources, thanks to APIs for example. 
It is also important to control the hosting of the tool: papAI is "host agnostic" – you can deploy the platform with your usual cloud partner (including Amazon AWS, Microsoft Azure, Google Cloud as well as the 17 most important providers on the market), or opt for the certified and secure hosting providers offered with papAI, thus guaranteeing the confidentiality of your information. 
It is also important to control the hosting of the tool: papAI is "host agnostic" – you can deploy the platform with your usual cloud partner (including Amazon AWS, Microsoft Azure, Google Cloud as well as the 17 most important providers on the market), or opt for the certified and secure hosting providers offered with papAI, thus guaranteeing the confidentiality of your information.
#8 - Standardization and certification
FHIR (Fast Healthcare Interoperability Resources) is the new standard for data exchange between healthcare organizations. It was created to standardize protocols for exchanging medical data (patient information, medical observations, medical devices, etc.) in an open, neutral format without semantic impositions. It also provides APIs to easily access this information. 
papAI integrates the FHIR standard, thus facilitating collaboration between the various healthcare players, information sharing and the reduction of medical data silos. 
#9 - Security and data protection
papAI integrates a blockchain solution to sign the metadata shared between the different actors while encrypting and tracing these data flows. In addition, papAI encrypts the information, making it indecipherable by the users but allowing to apply treatments giving a readable result. 
In short: the solution is able to explore and analyze the data (or only certain information within the data) in order to obtain relevant results to define the best action plans. However, sensitive data is strictly invisible to the users of the solution who will only have access to the columns they are authorized to consult. 
Finally, papAI natively offers a data anonymization function, automatically and by simply selecting the columns concerned. 
The papAI artificial intelligence platform has other assets. We invite you to discover the platform in video! And if you want to go further, contact us. 
Discover our papAI platform
Artificial intelligence in healthcare: the advantages of papAI