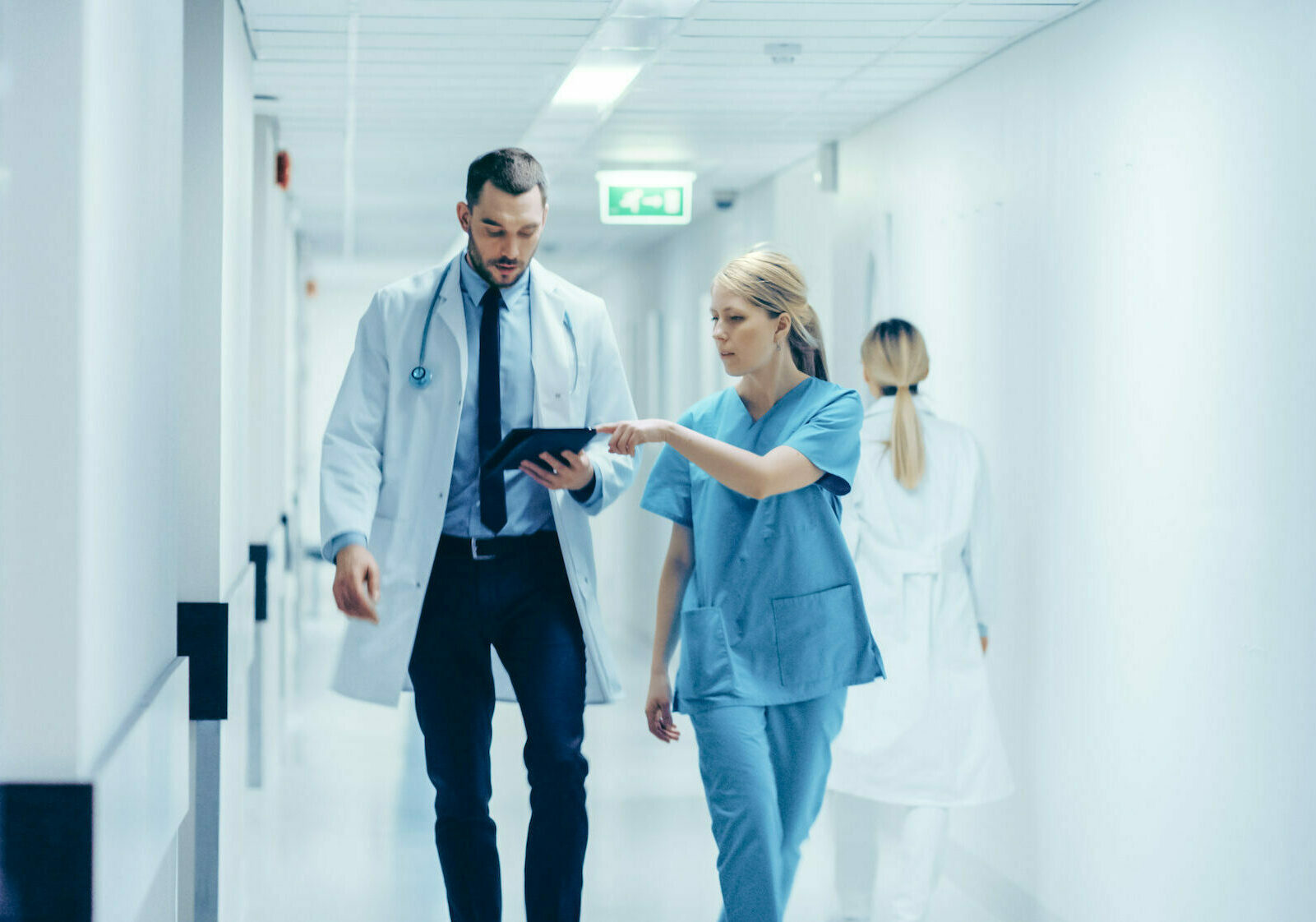 As in many sectors, digital technology has enabled hospitals to hospitals to evolve their processes and improve their operational performance. Digital technology has made it possible to simplify data exchange, secure information, optimize business processes, improve patient relations and advance medical research.
Beyond digital, artificial intelligence is gaining ground in the healthcare sector. Considered as promising by healthcare professionals, it raises many expectations as well as legitimate questions. Let's take stock…
Which place today for AI in hospitals?
According to a study conducted by Ernst & Young and the CHRU of Nancy in 2019 among general directors and medical committee chairmen of France's university hospitals, 81% consider artificial intelligence to be an important topic and a priority for healthcare institutions. 66.7% of them work in institutions that have already implemented AI-based applications.
Here are the top fields where AI could have an impact according to these respondents:
data processing
clinical research
diagnostic and decision support
improvement of care delivery
patient management
flow prediction
cost optimization
simplification of the patient journey
logistics forecasting: supply of drugs, medical devices, linen, catering, etc.
patient transport
waste management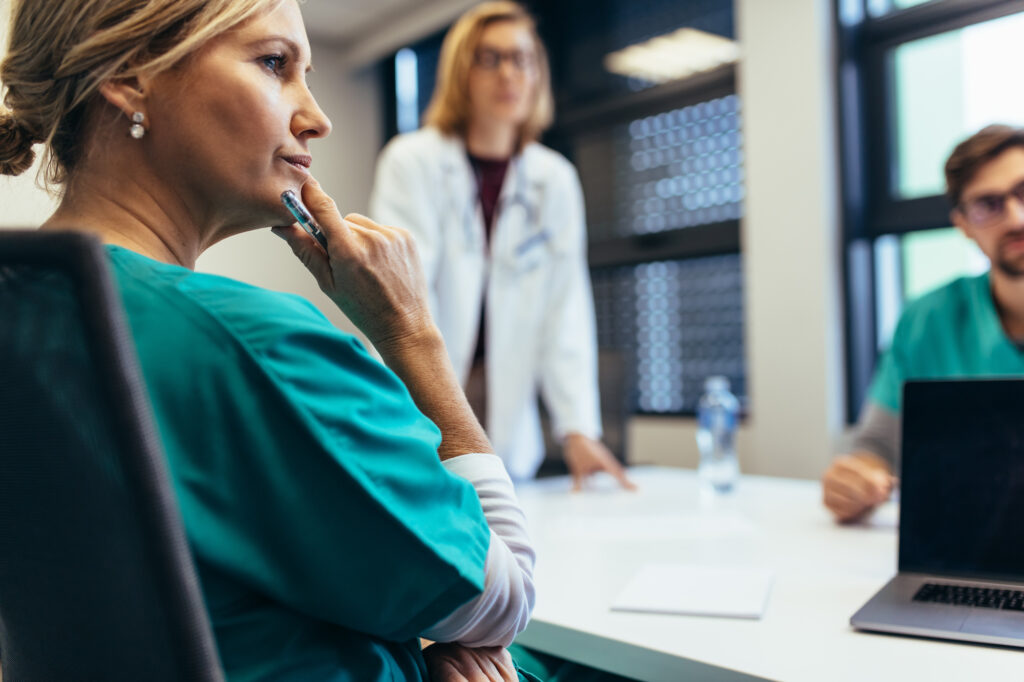 Artificial intelligence in healthcare: forecasts and ambitions
Artificial intelligence is a real issue for France, which has put in place several dedicated plans, including the "Ma santé 2022" scheme, with funding of €1.5 billion over four years to contribute to its development. It is difficult to predict the evolution of the health care sector over five years. However, there is a real desire to make France a pioneer in this field, with the aim of encouraging better organization of healthcare professionals to collaborate in the service of patients' health. Digital technology is an important lever. 
The plan anticipates that artificial intelligence will be massively used to process large volumes of data, often organized in silos, which are difficult to assimilate and exploit manually or via traditional software by healthcare professionals: oncology, pandemics, pharmaceutical industry, medical training, etc.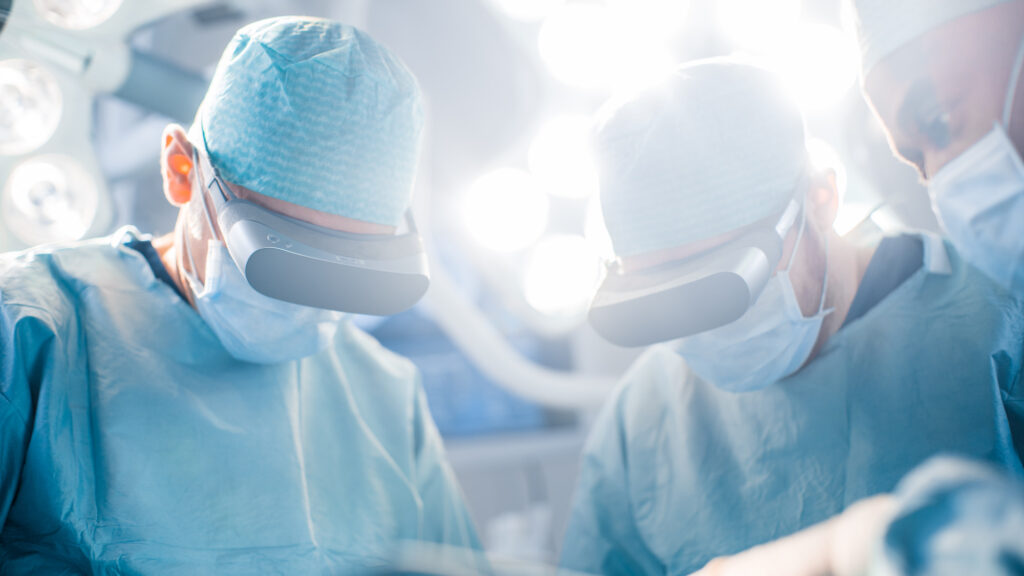 Automation is also a real subject for the future and the various professions will be directly impacted: remote monitoring and connected objects (scales, blood pressure monitors, etc.), automatic alerts based on patients' vitals, or triggering automatic actions such as sending reports or reminders, etc. This will allow them to save time to focus on their high value-added missions, for example by scheduling a consultation or performing care following an alert, exceeding a threshold… Hospitals also want to use AI to refine diagnoses, predict patient flows or even the evolution of diseases (remote monitoring, study of vitals, adaptation of treatments, etc.). 
From an organizational point of view, AI can be a real asset for the maintenance of equipment, the organization of catering, the management of equipment stocks thanks to the prediction of patient flows, the taking into account of re-hospitalization rates and the fine analysis of data of different granularities. 
The ultimate goal is to improve individual patient care, have real-time data, better understand the care pathway, and reduce waste and time loss to optimize costs. However, in no case, AI is intended to replace humans and dehumanize the patient-caregiver relationship. 
On the contrary, AI will free doctors from tasks that can be automated to spend more time with the patient, better understand him/her and thus personalize the support and improve the follow-up.
Deployment of AI in health: OMS sets the framework
In order for healthcare institutions to make the most of these opportunities, certain obstacles must be removed. That's why the WHO has issued six principles to ensure the successful deployment of AI in the healthcare sector and reassure users:
Maintain control: decisions must be made by humans, who remain autonomous regarding the care process. AI is a decision support tool, but does not replace the intelligence and expertise of healthcare professionals.
Regulatory compliance: providers of AI tools must ensure compliance with regulatory requirements for data security.
Responsible use: people using these technologies must be trained.
Transparency: the information that led to a result must be documented, searchable and easily accessible.
Ensuring equity: the AI solution must benefit the greatest number of patients, regardless of age, gender, ethnicity or other characteristics.
Environmental impact: AI systems should be designed to minimize their environmental impact and increase their energy efficiency. 
The development of AI in the healthcare sector is promising and is still in its infancy. The evangelization of healthcare professionals, the definition of a reassuring legal framework, the deployment of simple, ergonomic and transparent AI solutions are all levers to take advantage of all the opportunities expected from these new technologies. 
Discover our papAI platform
Artificial intelligence in hospitals: the state of art